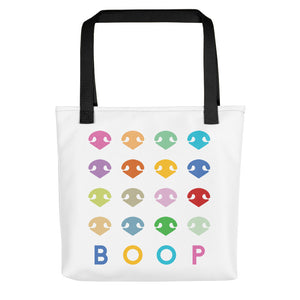 The BOOP the Rainbow Tote Bag by Lainey Yehl features a colorful array of dog noses and the lettering BOOP in a 4x5 grid pattern, celebrating the fact that just one BOOP is never enough!
About the Artist:
Lainey Yehl is a graphic designer and illustrator located in East Lansing, Michigan. See more of her work at laineyyehl.com and on her Instagram @laineymay.
Product Specifications:
• 100% Polyester Fabric
• 15" x 15" (38.1cm x 38.1cm)
• Weight Capacity of 44lbs (20kg)
• Dual-Handled
Shipping:
Domestic and International Shipping available. All merchandise is printed upon receiving payment. For more detailed information about shipping times, please refer to Shipping & Production.