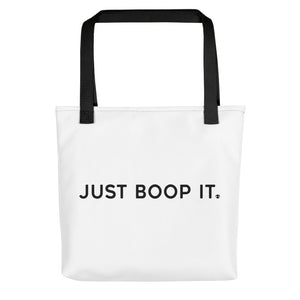 The Just BOOP It Tote Bag by Dayna Bassel features the phrasing alongside a period in the shape of a dog nose.
About the Artist:
Dayna Bassel is a graphic artist from Montreal, Quebec, Canada who currently works in the fashion industry. Dayna is also a mother of two awesome pups Wesley and Quin (@wes_and_quin). See more of her work on her Instagram @daynabasselart.
Product Specifications:
• 100% Polyester Fabric
• 15" x 15" (38.1cm x 38.1cm)
• Weight Capacity of 44lbs (20kg)
• Dual-Handled
Shipping:
Domestic and International Shipping available. All merchandise is printed upon receiving payment. For more detailed information about shipping times, please refer to Shipping & Production.